Commercial Real Estate in Old Town
Since 1996, Millennium Properties' knowledgeable commercial Realtors have helped clients find properties that fit the needs and constraints of their businesses in the historic Old Town neighborhood and surrounding areas. If you are interested in buying, selling, leasing, or investing in Old Town commercial space, we hope you'll consider working with our impressive commercial real estate team.
The Old Town Neighborhood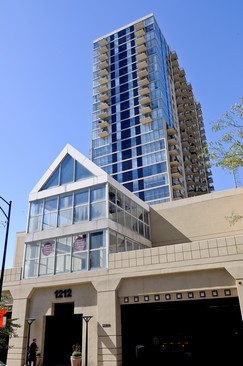 The historical Old Town neighborhood is filled with classic brownstones, brick alleyways, and tons of old-world charm and beauty. At its core, it is young at heart though. The neighborhood boasts an eclectic mix of shops, restaurants, bars, and theaters. There is plenty of entertainment for residents and visitors in the area, without leaving the Old Town neighborhood.
Located just north of downtown Chicago, travel into the Loop is quick and easy. Old Town is only a few minutes from Union Station and Millennium Park, whether you travel by train or car. A short commute takes residents into downtown and all it has to offer.
The Old Town neighborhood has a good mix of residential and commercial properties. The affluent, educated residents are a prime customer base for a wide variety of businesses.
The neighborhood is a popular choice because of its proximity to downtown Chicago and to the lake. Residents support excellent entertainment opportunities including comedy clubs, quality theater, and a wide variety of restaurants and bars.
Shopping is eclectic with a variety of boutiques and specialty shops throughout the neighborhood. Businesses selling gourmet and quality merchandise will do well in the Old Town neighborhoods.
Old Town Commercial Real Estate Opportunities for Sale or Lease
The Old Town commercial property market attracts a significant number of buyers and investors. When you find your dream property here, you should act decisively to secure it. Whether you are buying or leasing, you'll find a good mix of Old Town commercial listings. Let us help you secure your ideal property in Old Town, including:
Retail spaces
Office space
Restaurant and bar space and turn-key businesses
Entertainment spaces
Gyms, health centers
Mixed-use properties
Lofts
Two and three flat apartment buildings
High rise multi-family housing
Vacant land for developing
Looking for the Best Old Town Commercial Realtor?

Millennium Properties is trusted by Old Town businesses and residents to help them buy, sell, and invest in commercial property. Our clients rely on our exceptional knowledge of the Old Town area and the available Old Town commercial real estate for lease or sale. Our focused Old Town commercial Realtors can spot properties that will soon be available and help investors get the best deal. If you need commercial property in the Old Town neighborhood or nearby areas, talk to our Millennium Properties team of commercial Realtors who are experts in the area. We've helped many Old Town businesses find the right property for their needs and we look forward to helping you move to your dream location. Give us a call today and let's get started.