Commercial Real Estate in Downtown Chicago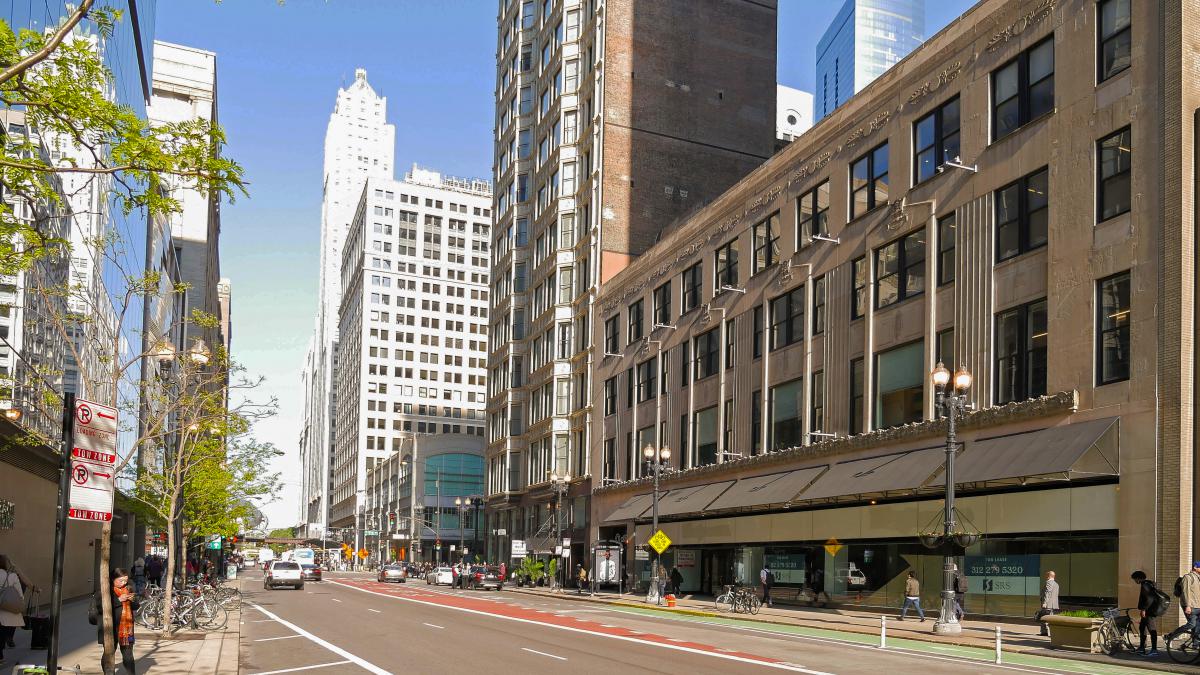 If you were to seek out the best downtown areas in major cities throughout the United States, Chicago would definitely top out the list. Poet Carl Sandburg once described the "City of Big Shoulders" as "stormy, husky, brawling" and "coarse and strong and cunning," but the nation's third most populous city has come a long way in the nearly 200 years since its incorporation. Nowhere can you see that better than in Chicago's famous downtown area.
While people often refer to downtown Chicago as if it comprises a distinct and clearly delineated area, it actually spans multiple neighborhoods, including The Loop, River North, Streeterville, and the South Loop. You'll find the Windy City's most famous attractions downtown, notable sights such as Navy Pier and Millennium Park, The Art Institute of Chicago and The Chicago Theatre, the Magnificent Mile with its tony shopping and the Chicago River that teems with architectural boat tours.
Downtown also serves as a major transport hub. The streets teem with taxis, and the famous "L" transit system hangs above the city streets. Then there's the Metra, the fourth busiest U.S. commuter rail system, which ferries visitors from the surrounding suburbs and neighboring cities into Chicago's heart. Indeed, Chicago boasts nearly 500 miles of commuter rails, making it easy to get wherever you're going — and an ideal place for commercial real estate.
Commercial Property Opportunities in Downtown Chicago
More than 600,000 people work in downtown Chicago, and over 55 million visit the broader city annually. That means the Windy City abounds with valuable commercial real estate opportunities. In addition to those listed above, some of the locations that draw employees and visitors alike to downtown Chicago include:
Riverwalk
Grant Park
Maggie Daley Park
Chicago Mercantile Exchange
Museum of Science and Industry
Chicago Cultural Center
Harold Washington Library Center
Aqua Tower
Carbide and Carbon Building
Chicago Board of Trade
St. Peter's Church
The Lyric Opera House
Types of Commercial Listings Available in Downtown Chicago
In a city as fast moving as Chicago, commercial real estate listings are always coming and going, often appearing and vanishing at an astonishing pace. Some of the types of opportunities you should expect to find are:
Retail centers
Medical facilities
Office buildings and spaces
Restaurants
Mixed-used buildings
Multi-family housing
Condominiums
Trying to purchase or secure a lease on commercial property in downtown Chicago can prove difficult if you don't have a local real estate professional ready and willing to help you. With decades of experience in downtown Chicago and the broader Chicagoland area, Millennium Properties is just the partner that can help you.
Call Millennium Properties for Your Downtown Chicago Commercial Real Estate Needs

Our highly qualified team of downtown Chicago experts stand ready, willing, and able to aid companies of every size find suitable commercial properties. Call us today at 312-338-3000 or fill out our online contact form. Your gain is our goal.